We had no idea what we were going to see, but we set off hyped and full of adventurous spirit.
At 8:33 am we set off from Santa Fe Farm in the Sea Horse, our new 6 m boat, making her maiden voyage up the Ireng River.
The Ireng River, also called the Maū River, forms part of Guyana's western border with Brazil. It is said to be the only major river in Guyana that flows north to south.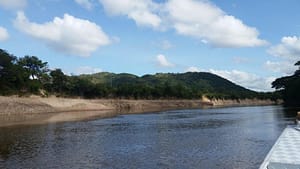 This snaking river flows through the valleys of the Pakaraima mountains for most of its length.
The Ireng River waters at first glance appears dark, bearing a striking resemblance to the waters of the Rio Negro near Manus.

The serene river is interspersed with a number of exciting rapids, caused by a variety of rocks and boulders.
Both banks, the Guyana and Brazil side are lined with multiple clusters of "Rocks of Ages" varying in colour, size, and formation. Who knows what stories these silent witnesses of the earth's history have to tell.
Frequenting these rocks and the huge array of flora and fauna are an array of birds, small animals, otters, and in the river itself many species of fishes. Testimony to this fact lies in the multitude of boats we saw on the river and the fishermen and women we saw on the river with their catch.
We passed a number of naturally made sand banks, ideal for fishing and picnicking.
It was a wonderful experience to journey this amazing river and take in the splendor of the Pakaraima range and marvel at its creation.

Videos
-Yolanda Vasconcellos, General Manager, Santa Fe Farm