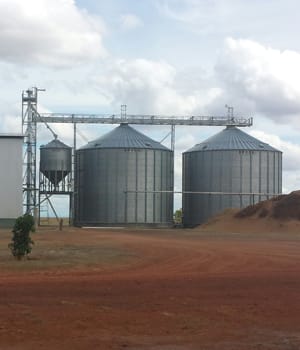 SANTA FE FARM is located in the North Rupununi, Region9, Guyana.
The farm is the brainchild of Barbados entrepreneur, Sir Kyffin Simpson who had a vision for the creation of an integrated farm in the Rupununi Savannahs of Guyana. The farm presently occupies 29,000 acres of leased land for agriculture purposes, of which 8,000 acres have been prepared for rice cultivation. Other agriculture crops being cultivated are Cassava, Sweet Potatoes, Cole, and Solanaceous and Leguminous Crops. Research is presently being done on other non-traditional crops.
The livestock comprises of cattle, sheep, pigs, horses, and poultry and emphasis is being placed on the expansion of cattle operations.
Santa Fe Farm is committed to producing consistent, high-quality agriculture and livestock products using the best environmentally friendly farm practices within the guidelines of the country's "Low Carbon Development Strategy," and to be a part of Guyana's aspiration of being the "Food Basket of the Caribbean".
Santa Fe farm has joined Guyana's Eco-Tourism Thrust by offering first world accommodation with a newly built, spacious, fully furnished two bedroom two bathroom cottage.
CONSERVATION
Santa Fe Farm operates with best management practices and is committed to sound environmental ethics that revolve around principled stewardship of wildlife, wetlands, and water resources.
The farm uses conservation tillage practices to protect the soil by reducing soil erosion and runoff. Our nutrient and irrigation management program protects water quality and minimizes loss of nutrients to the environment. Precision agriculture is used during planting, spraying, and harvesting of crops, and an integrated pest management system is also used to protect the environment.
VALUES
Quality Service – To provide consistent, fair and quality service to customers and clients
Good Corporate Citizen – Respect and compliance with the laws of the land
Integrity – Operate with the highest level of professionalism and business ethics
Teamwork – Work together to ensure the team is highly motivated and efficient
MISSION STATEMENT
To produce consistent, high-quality livestock and agriculture products within the guidelines of the country's "Low Carbon Development Strategy."
To be part of the country's aspiration of being the "Food Basket" of the Caribbean.
To ensure the welfare of our employees.
To provide an acceptable return on Investment to Shareholders.